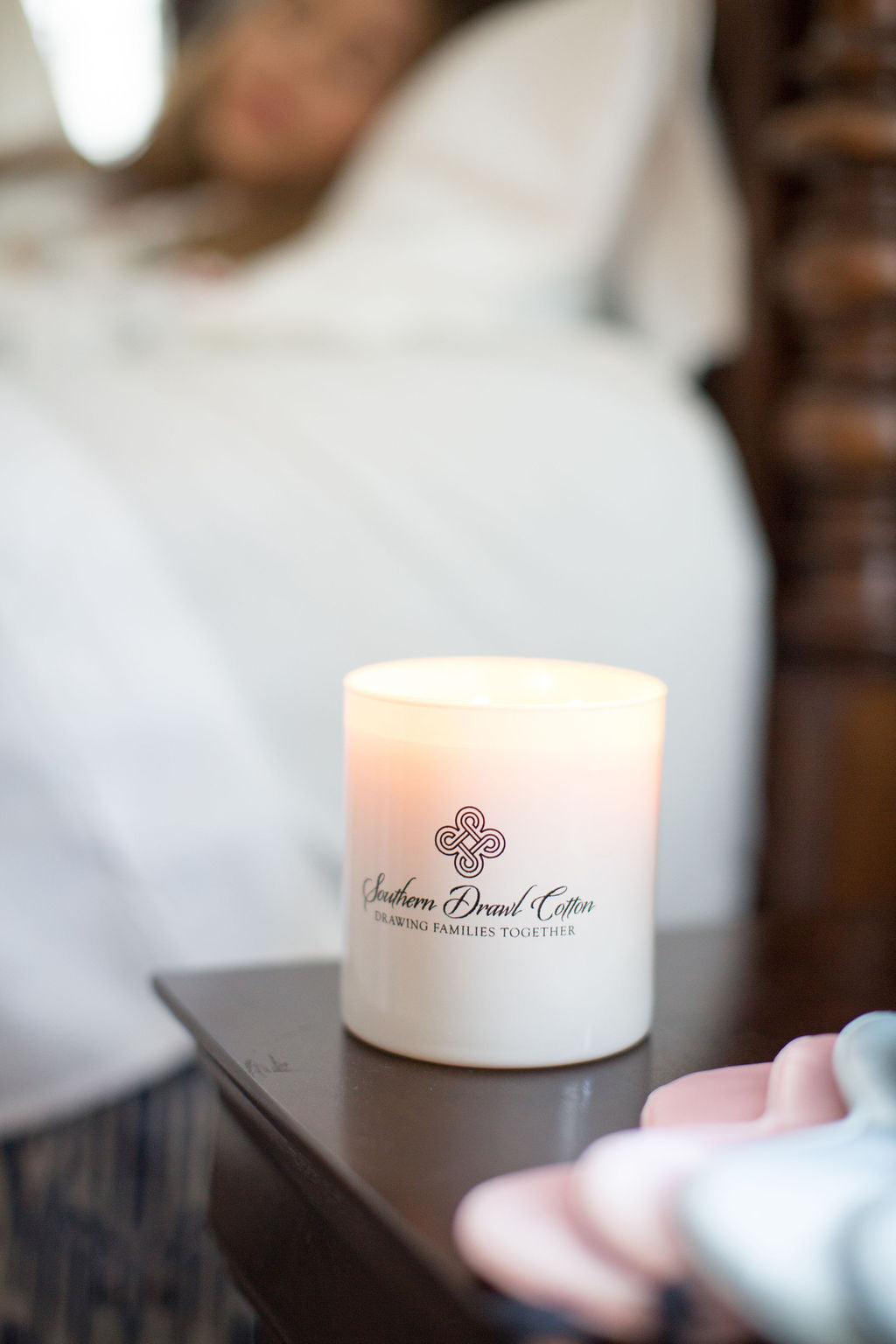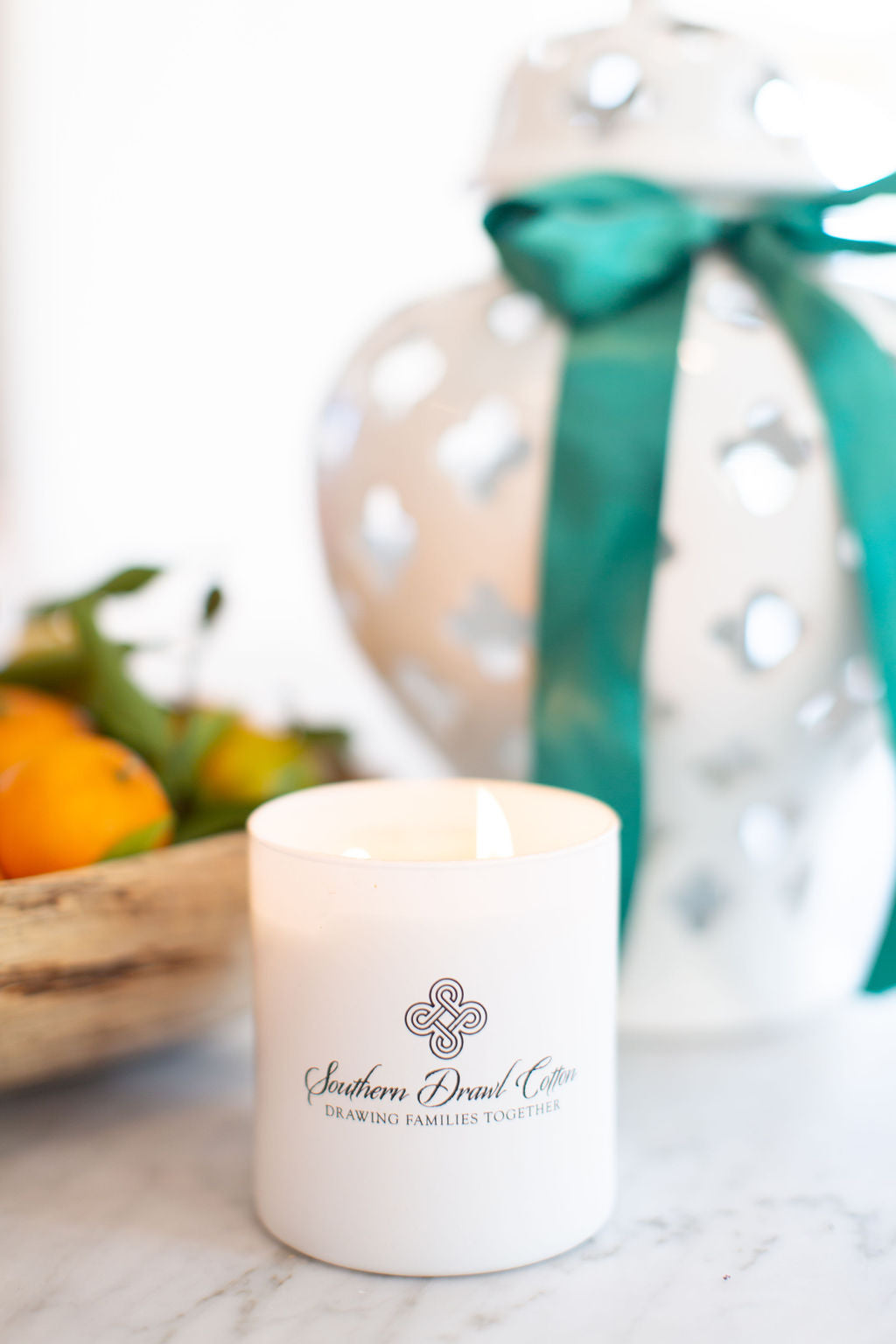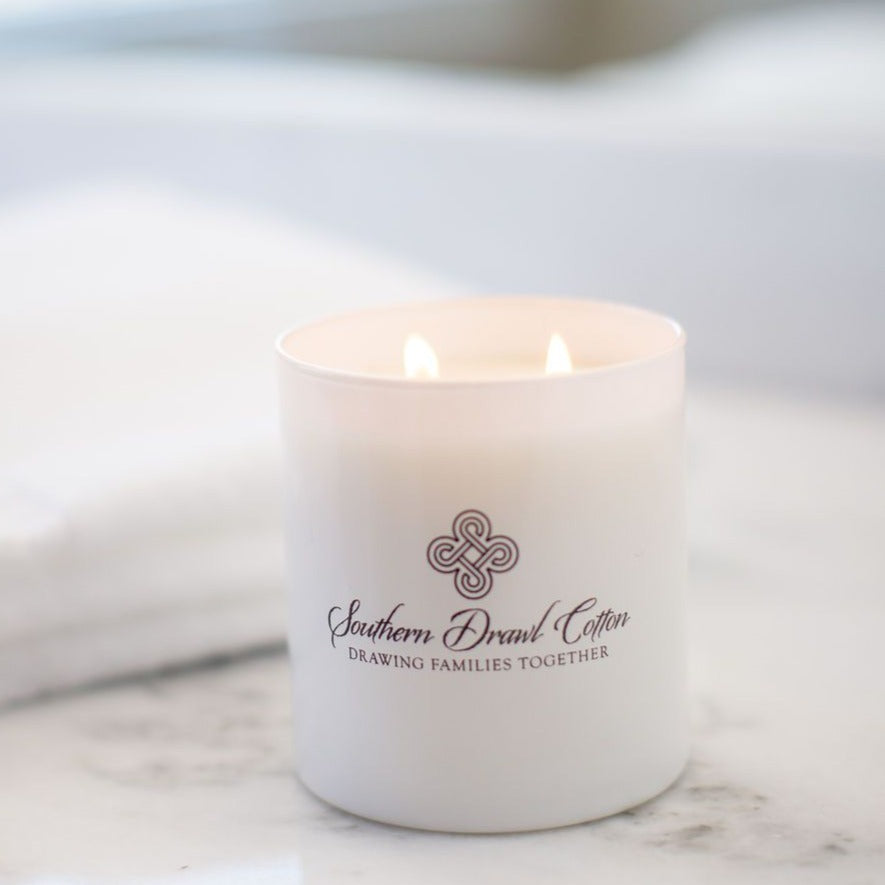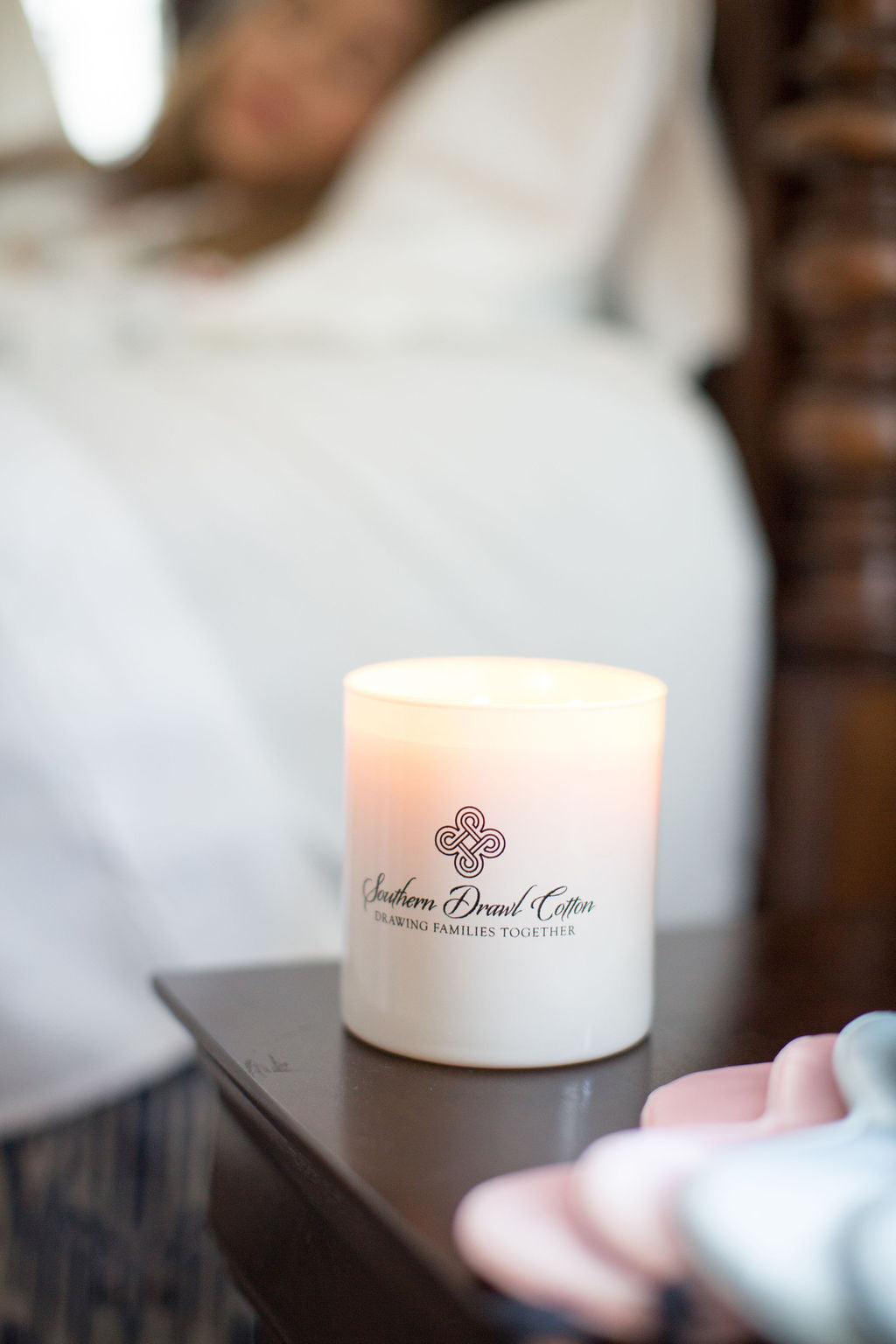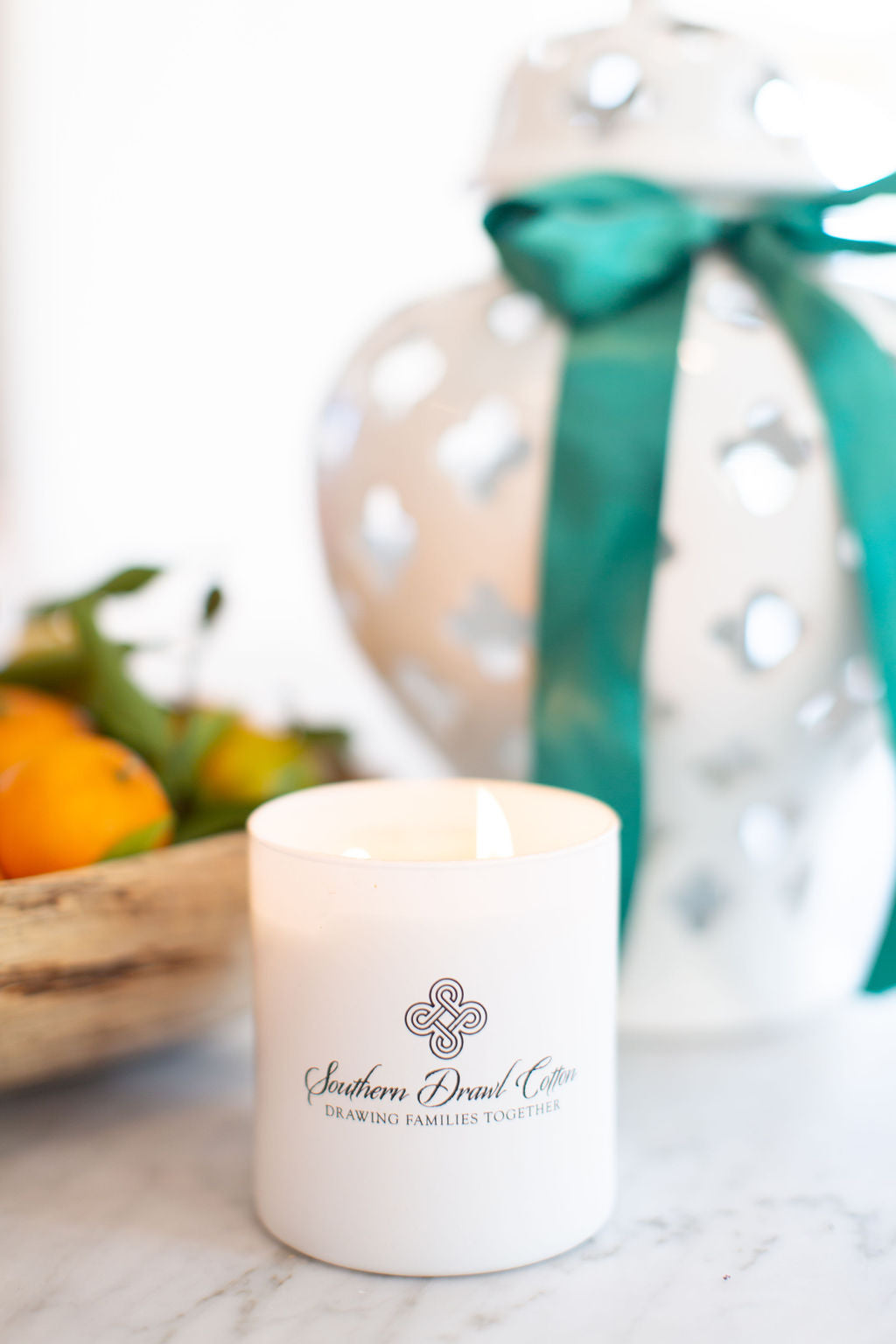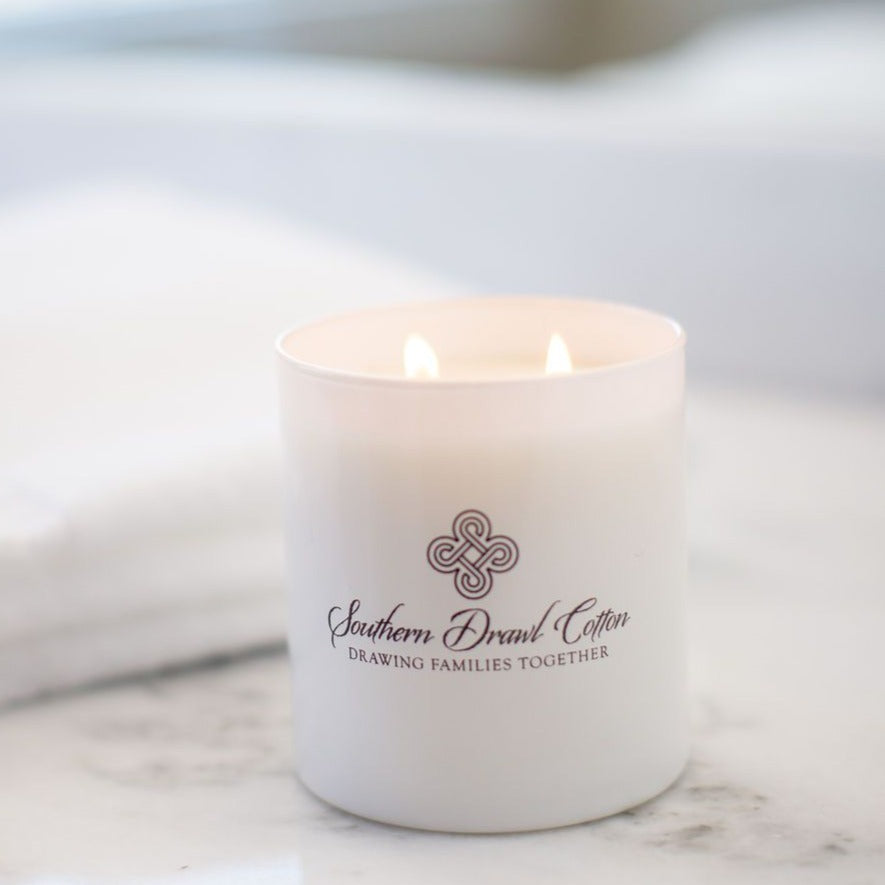 Southern Drawl Candles
From the cabin on the back field to a fine dining experience, our candles are never out of place. They have been created with relaxing aromas and an elegant look to satisfy any home décor. Our gloss white with screened black Southern Drawl label whispers country chic.
Each of our classic style candles are crafted for a burn of approximately 60 hours. Our 17 oz. two wick system ensures the fragrance fills the room, but does not overwhelm. Our fragrances have been selected by our own Southern Belles to assure the best possible experience. We currently offer two scents so rightfully named High Cotton and Perfect Night.
High Cotton is your classic fresh scent of momma's fresh laundry. The High Cotton Candle is ready to bring you back to childhood (without the chore of folding and putting away!)
 
Perfect Night is our nod to our state fruit - the Georgia Peach. Complimented with strong citrus notes, the name says it all. Strike a match and enjoy the evening with The Perfect Night.
Keep burning candles away from anything flammable and out of reach of children and animals.
Regular price
$0.00
Sale price
$40.00
Unit price
per
Shipping calculated at checkout.
Materials

100% Georgia Grown Cotton.

Percale woven.
Shipping Information

How long before I receive my order?

Please allow 7-10 business days for in stock items. If there will be a delay we will notify you at the time of your order.

What shipping service do you use?

Southern Drawl uses UPS for shipping and returns through UPS or USPS.
Dimensions

Flat:           Width x Length in inches

King:          109" x 104"

Cal King:   109" x 104"

Queen:       98" x 104"

Full:            81" x 96"

Twin:          66" x 96"

Twin XL      66" x 102"

 

Fitted:       Width x Length in inches

King:          78" x 80"

Cal King:    72" x 84"

Queen:       60" x 80"

Full:            54" x 75"

Twin:          39" x75"

Twin XL      39" x80"

King, Cal King and Queen have 16 inch pockets

Full, Twin, Twin XL have 15 inch pockets

*All fitted sheets will fit up to an 18" pocket*

 

Pillowcases:      Width x Length in Inches

Standard:     20 x 30

King:            20 x 38

 

Tea Towels:

17½"  x 25" 

 

Bath Towels:

Bath Towel: 57" x 30"

Hand Towel: 29½" x 41"

Wash Cloth: 16" x16"
Refunds & Exchange

What is your return policy?

Southern Drawl Cotton will honor returns within 30 days of the purchase date but will not accept used or laundered returns. We cannot accept returns on items damaged through normal wear and tear.
Care Instructions

What are your washing instructions?

We recommend washing your bedding before you use your new sheets*. Use cold water and tumble dry on low heat for best results. Remove promptly from dryer and fold or return to the bed. Sweet Dreams!

***Please inspect your linens prior to washing as we cannot accept returns on laundered items.

Do you recommend bleach or fabric softener?

To insure longevity of the bedding and to avoid discoloration of the cotton we do not recommend using bleach. There are some bleach alternatives on the market; please use at your own discretion. Fabric softener, over time, will also break down the natural cotton fibers. We recommend a splash of white distilled vinegar and a bit of blue-original-dawn soap as a less harsh alternative.

 

Do you recommend ironing your bedding?

You are welcome to iron Southern Drawl Cotton sheets, however, if you desire the natural feel of the cotton there is no need to iron. 
Share